Floods, landslide kill nine in West Sumatra, Riau
Syofiardi Bahyul Jb and Rizal Harahap

The Jakarta Post
Padang/Pekanbaru |

Sun, October 14, 2018

| 06:23 pm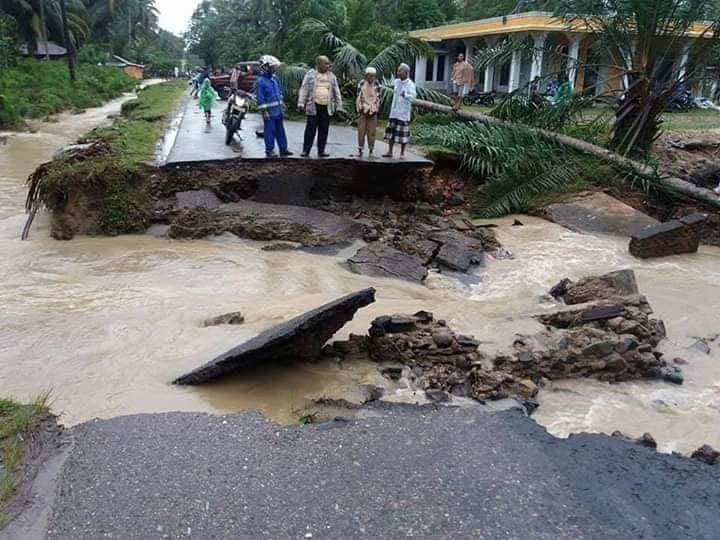 Residents look at a damaged road in Mandailing Natal regency in North Sumatra following a flash flood and a landslide on Friday. (Courtesy of BNPB/-)
At least nine people have died and others are missing in West Sumatra and Riau after floods and landslides struck several areas in the two provinces following hard rain during the transition into the rainy season.
In West Sumatra, authorities reported eight fatalities: five in Tanahdatar regency and three in Padangpariaman. Meanwhile, a joint search and rescue team is still looking for a person reported missing.
The three victims in Tanahdatar—33-year-old Rani, who was pregnant, and her two sons Moch. Steve Efendi, 10, and 2.5-year-old Aris—were presumably killed when Batang Sinamar River overflowed and a landslide hit the family's home on Thursday. Their bodies were discovered on Friday morning.
The search and rescue team found another two victims, Erizal Efendi, 55, and Yernida, 56, on Saturday. Meanwhile, Yernida's husband, Daswirman, was still missing
"We are still looking for him," West Sumatra Disaster Mitigation Agency (BPBD) officer Rumainur told The Jakarta Post on Sunday.
Meanwhile, in Rokan Hulu regency of Riau, water overflowing from the rivers Rokan and Tibawan inundated dozens of houses in Rokan IV Koto district and dragged away 50-year-old Mawardi on Wednesday, who was found dead by a search and rescue team a day later.
"He, who used a walking stick due to his disability, was reported missing by his family when the Tibawan River overflowed; therefore, we dispatched a team to look for him," Rokan IV Koto district head M. Abrar said on Sunday.
Floods and landslides in both provinces were caused by high rainfall over several days as the area is transitioning into the rainy season. Hazardous weather condition are expected to last for several weeks.
Apart from West Sumatra and Riau, flash floods and landslides also occurred in North Sumatra, where at least 23 people have been found dead. (kuk/evi)
Topics :
Join the discussions