Jokowi: Last year of his first term, will there be a second?
Devina Heriyanto

The Jakarta Post
Jakarta |

Fri, October 26, 2018

| 01:12 pm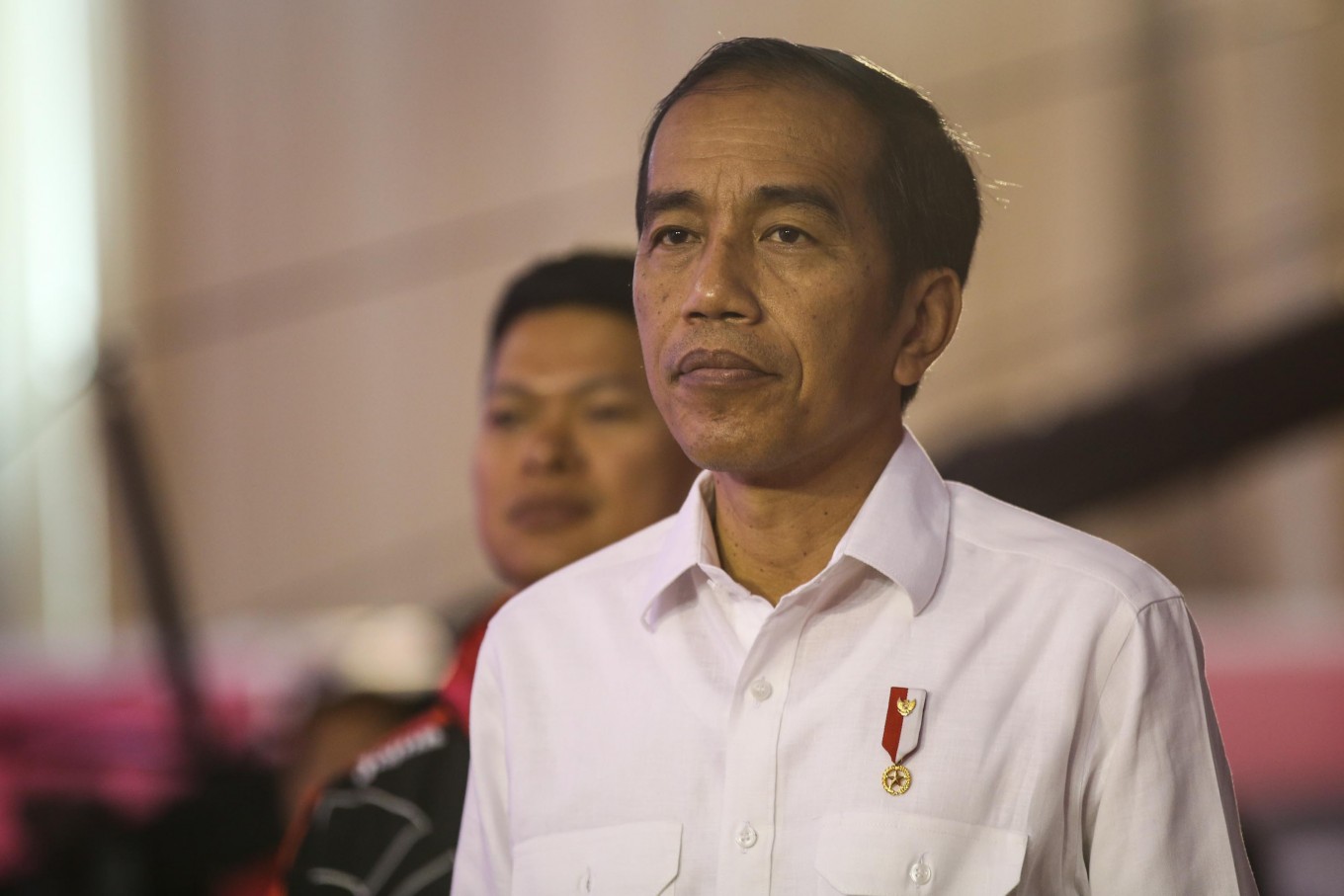 President Joko "Jokowi" Widodo (INAPGOC/Garry Lotulung)
With only one year left in office, many have begun to judge Jokowi's performance. With the election looming, President Joko "Jokowi" Widodo must defend his administration in an effort to seize another term. As the incumbent, everything he has done can be used to boost his profile, or be used against him.
The opposition camp has used shortcomings in Jokowi's programs as a basis for its attacks, from his policy on foreign workers, focus on infrastructure to, most recently, his plan to disburse subdistrict funds. Even seemingly mundane things such as the picture on government-issued sacks of rice and government-sponsored advertisement have sparked considerable friction on social media.
In April 2019, the nation will again have to choose between Jokowi with running mate Ma'ruf Amin and Prabowo Subianto with former Jakarta vice governor Sandiaga Uno. Here are some key questions leading up to the election:
Who's leading the polls so far?
Jokowi and Maruf are doing well in the polls, judged by five surveys conducted by the Indonesian Survey Circle (LSI), Alvara Research Center, Survey Y-Publika, Indikator Politik Indonesia and Saiful Munjani Research Center (SMRC). All surveys were conducted after both Jokowi and Prabowo had officially announced their running mate.
LSI's survey was conducted from Aug. 12 to 19 and polled 1,200 respondents about who they would vote for in the 2019 presidential election. Around 52.2 percent of the respondents chose Jokowi and running mate Ma'ruf Amin, while 29.5 percent chose Prabowo and running mate Sandiaga Uno. The remaining 18.3 percent were undecided or preferred not to answer.
Alvara Research Center conducted their survey from Aug. 12 to 18 with 1,500 respondents. The survey found that Jokowi-Ma'ruf's electability stood at 53.6 percent compared to Prabowo-Sandiaga at 35.2 percent. As many as 11.2 percent of the respondents were still undecided.
Survey Y-Publika involved 1,200 respondents from Aug. 13 to 23. Again, Jokowi-Ma'ruf lead with 52.7 percent against Prabowo-Sandiaga at 28.6 percent, with 18.7 percent undecided.
Indikator's survey ran from Sep. 1 to 6 and involved 1,220 respondents. Jokowi-Ma'ruf gained 57.7 percent and Prabowo-Sandiaga 32.3 percent, with 9 percent of respondents not answering and 1 percent choosing not to vote for either candidate.
SMRC surveyed 1,074 respondents from Sep. 7 to 24, finding that in a head to head scenario, Jokowi-Ma'ruf reaped 60.4 percent of the vote compared to Prabowo-Sandiaga at 29.8 percent. 9.8 percent did not answer.
What's the meaning of their running mate choices?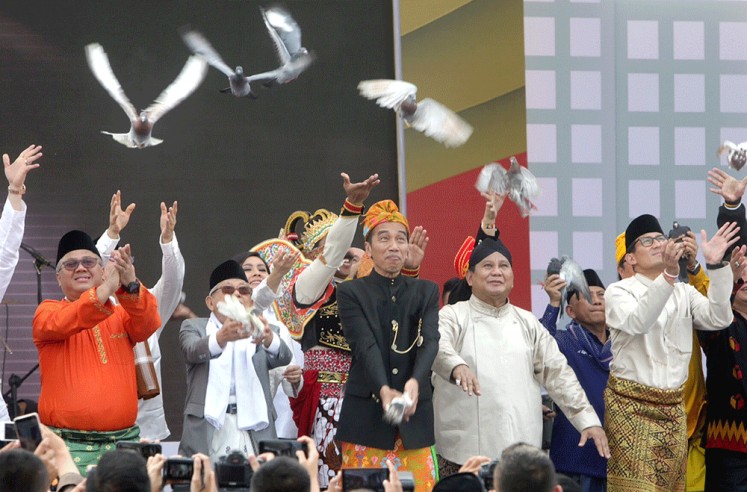 Give peace a chance: President Joko "Jokowi" Widodo (center), who is running for a second term, and his running mate Ma'ruf Amin (second left), along with presidential candidate Prabowo Subianto (second right) and his running mate Sandiaga Uno (right), release pigeons during a peace declaration for the 2019 election campaign at the National Monument in Jakarta. With the declaration, the campaign period for the presidential election, scheduled for April next year, officially kicked off , pitting Jokowi once more against his opponent in the 2014 election. (The Jakarta Post/Wendra Ajistyatama)
Jokowi's choice of Ma'ruf Amin means aligning himself with the conservative right, as Ma'ruf is currently one of the most powerful and influential Muslim figures in Indonesia. As the chairman of the Indonesian Ulema Council (MUI), Ma'ruf signed a document that became the basis for several anti-Ahok rallies in 2016. Jokowi has been attacked repeatedly for being anti-Islam, despite being a Muslim man himself.
Having Ma'ruf as a running mate is also necessary to maintain Jokowi's coalition. It was widely reported that Ma'ruf was the only figure that all parties in his coalition could support and had the least amount of resistance. By keeping the coalition intact, Jokowi avoided the risk of having a three-way race.
On the other hand, Prabowo's choice of Sandiaga shocked many, especially after speculation was rife that he would pick Agus Harimurti Yudhoyono (AHY) or a Muslim figure instead.
The budding coalition between the Democrats and Gerinda was feared to have collapsed when Democrat executive Andi Arief derided Prabowo as a cardboard general in a series of angry tweets, accusing Sandiaga of offering Rp 500 billion for the VP seat. The Democrats have stayed in the coalition, but have allowed some party members to continue supporting Jokowi.
Sandiaga is expected to bring young voters for Prabowo. Gerindra advisory council vice chairman Hashim Djojohadikusumo, also Prabowo's brother and his political financier, commented that Sandiaga was chosen because he was "healthy, young, smart and rich."
Aside from his youthful image, Sandiaga is also making efforts to appeal to female voters. Some women are grouped under Emak-Emak Militan (militant moms) to attack Jokowi in economic issues. The LSI's survey found that Sandiaga slightly helped raise Prabowo's electability among women, millennials and educated voters.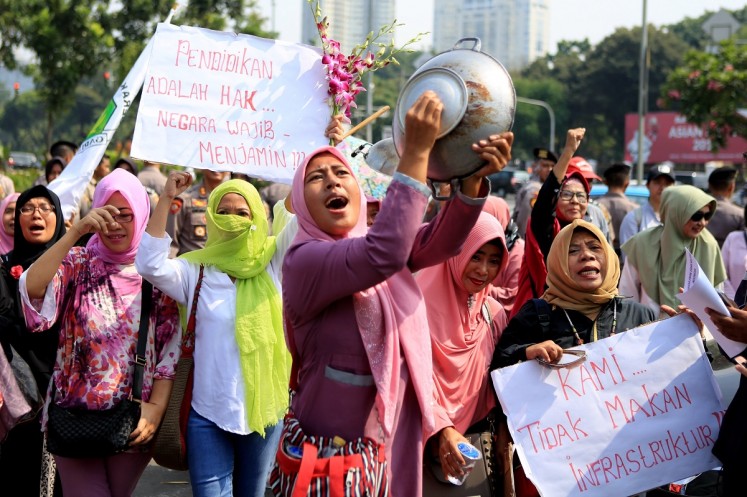 Women grouped in the Emak-Emak Militan, (militant moms) stage a rally on July 18 in at the State Palace in Central Jakarta. The women protested about economic issues, including rising prices, and criticized President Joko "Jokowi" Widodo's infrastructure drive. (JP/Seto Wardhana)
How does having Ma'ruf affect the anti-Islam attack against Jokowi? How effective is the pro-Islam branding for Prabowo?
For one, Jokowi is considered to be more religious than Prabowo. In a survey by Indikator, 76 percent of the respondents considered Jokowi to be religious and pious, while 58 percent said Prabowo was religious and pious.
Since early last year, Jokowi has made many visits to pesantren (Islamic boarding schools), mostly across Java, and met with senior religious figures from various Muslim groups in different regions. In September, 400 grand kyai (Muslim elders) and leaders of pesantren across the country declared their support for Jokowi and Ma'ruf in the 2019 election.
Ma'ruf commented that the support from the pesantren was "more significant" than support from the National Movement to Safeguard the Ulema Fatwa (GNPF), which had declared itself for the Prabowo-Sandiaga ticket.
In contrast, Sandiaga's non-Arabic name and his history of formal education are regarded as not being advantageous for Prabowo, also known as being more secular than religious, in wooing conservative Muslims.
Sohibul Iman of the Prosperous Justice Party (PKS) said his formal education track record aside, Sandiaga was "a post-Islamist santri". Santri refers to students of pesantren. Sandiaga himself later admitted that he did not understand this term at first.
Will Sandiaga be a vote getter for Prabowo?
Despite Sandiaga's best efforts to hit the campaign trail, the latest polls show that most voters are not swayed by vice-presidential candidates and place more importance in the top of the ticket.
A poll conducted by SMRC between Sept. 7 to 14, for example, found that both Sandiaga and rival Ma'ruf Amin had yet to significantly boost support for their respective running mates.
The Prabowo-Sandiaga pair was supported by 29.8 percent of respondents, while Jokowi-Ma'ruf won support from 60.4 percent of respondents, not much different from the 28.7 and 60.2 percent support garnered by Prabowo and Jokowi on their own.
Paramadina University political observer Hendri Satrio said that while vice-presidential candidates could have a larger impact than reflected in recent polls, Prabowo still needed to take a more active hand in campaigning.
"Prabowo cannot just rely on Sandiaga because he could be in danger of being forgotten during the long campaign period," he said, adding that Prabowo's absence could fuel further speculation about the candidate's desire to win.
What has Jokowi done in four years? What are his achievements, especially in infrastructure?
Jokowi mainly focused on economic reforms and infrastructure development, aiming to boost foreign investment in the country. So far, Indonesia's ease of doing business (EODB) rank has improved from 106th in 2015 to 72nd in 2017, and its economy has been growing steadily at 5 percent on average. Still, this is below Jokowi's ambitious goal of placing 40th in the EODB list and having 7 percent annual growth.
A flagship program from Jokowi's administration is infrastructure development outside Java to reduce high logistics costs that hamper the economy. Aside from massive road construction projects in various parts of Indonesia, the government has so far opened several new Special Economic Zones (KEK), such as Mandalika in West Nusa Tenggara and Palu in Central Sulawesi.
One of the most challenging programs is perhaps the 35,000 MW electricity projects, which by early 2018 only reached 3.8 percent since its launch in May 2015. As a result of the weakening rupiah, the government also postponed the development of the electricity projects amounting to 15,200 MW.
One of the reports on Jokowi's four years in office is about human rights. What are his problems?
In its evaluation report, Kontras noted that Jokowi had failed to carry out most of his own 17 priority human rights programs.
Jokowi, it claimed, had yet to address the issues of extrajudicial killings, past human rights abuses and religious freedom. The remaining issues, including disability rights, had only been partially resolved, it added.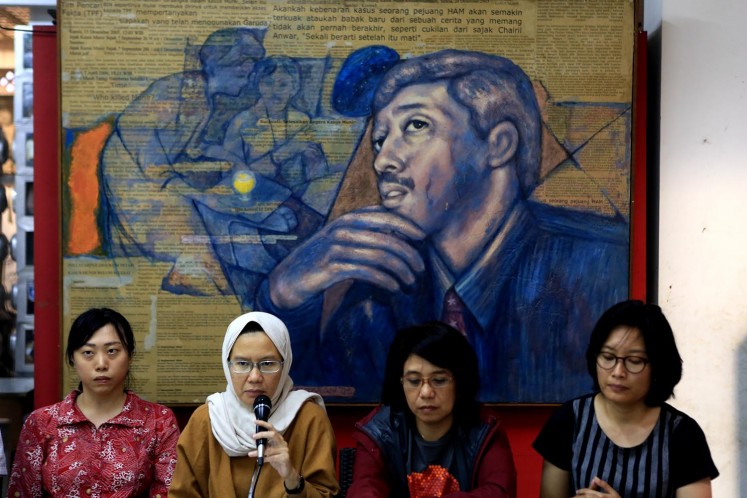 Yunita from LBH Jakarta, Kontras Coordinator Yanti Andriani, Munir's widow Suciwati and Puri Kencana from Amnesty International speak during a press conference in Jakarta on Sept. 7. Human rights activists have urged the government to solve the murder of activist Munir Said Thalib 14 years ago. (JP/Seto Wardhana)
Earlier this year, Jokowi met with then-United Nations High Commissioner for Human Rights Zeid Ra'ad, but did not talk about unresolved serious human rights violation cases. Jokowi's administration has promised to settle at least seven cases of historic human rights violations, including the 1965 communist purge and the 1998 riots.
Last year, Kontras also criticized Jokowi's statement in an event commemorating International Human Rights Day, calling it "nothing more than diplomatic language and political communication aimed at winning public sympathy."
LGBT rights, the death penalty and the Blasphemy Law remain among Indonesia's biggest sources of criticism and are unlikely to change soon despite recommendations from the UN Universal Periodic Review (UPR).
Will the fall of the rupiah pose a major challenge for Jokowi? What has the government done?
Indonesian Institute of Sciences (LIPI) expert Siti Zuhro told Kompas.com that the fall of the rupiah would be a disadvantage and could be exploited by the opposition. Siti pointed out that the fall of the rupiah would lead to higher inflation.
In September, Jokowi stated that he gave the ministers a year to address Indonesia's current account deficit (CAD). Since then, the government has set B20 mandatory rules, restricted imports and called producers to increase local content.
Despite booking a surplus of US$230 million in September, the trade deficit stood at $3.78 billion from January to September.
BPS distribution and service deputy Yunita Rusanti said the impact of the government's move to reduce imports could be seen in October's trade balance, to be announced in November.
Indonesia's relationship with China has often been a major issue for anti-Jokowi groups. What is Jokowi's stance on China's Belt and Road Initiative (BRI)?
Jokowi has often grappled with anti-Chinese sentiment, such as the recurring rumor of millions of Chinese workers in Indonesia.
However, China's BRI can provide the necessary funding for Jokowi's infrastructure program. Last year, Jokowi attended the Belt and Road Forum in China and in April, Indonesia and China signed five contracts worth US$23.3 billion as part of the BRI.
The contract was signed by companies from both countries and consists of a $2 billion hydropower plant in Kayan, North Kalimantan, a $700 million contract to develop facilities to convert coal to dimethyl-ether and a $17.8 billion joint venture to build a hydropower plant on the Kayan river. Additionally, the contract includes a $1.6 billion joint venture to build a power plant in Bali and $1.2 billion to develop a steel smelter.
Topics :
Join the discussions