A teenager's perspective on Governor Ahok
Jakarta |

Tue, December 27, 2016

| 08:38 am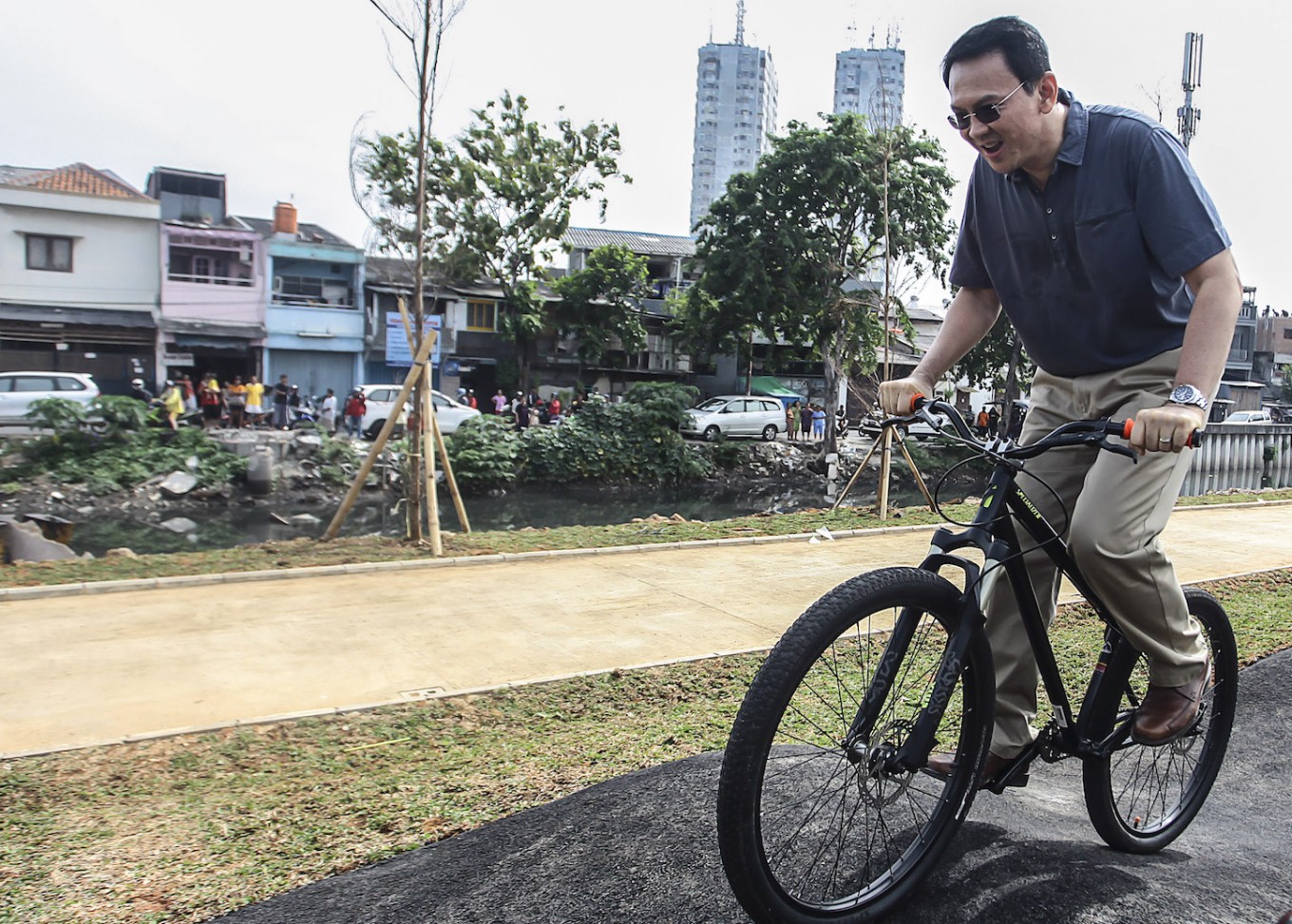 Non-active Jakarta Governor Basuki "Ahok" Tjahaja Purnama rides a bicycle on an open space in ex-prostitution area Kalijodo, which was demolished by the capital administration several months ago, to oversee the development of the green area. (Antara/Muhammad Adimaja)
Traffic. Flooding. Corruption. For so long, these three traits defined life in the bustling metropolis of Jakarta. "That's Jakarta," citizens, especially youths, often sighed in hopelessness.
Then along came Basuki "Ahok" Tjahaja Purnama in November 2014, when he was sworn into office as the Jakarta governor. Since his role as deputy governor to now President Joko "Jokowi" Widodo, Pak Ahok, as he is commonly called, has brought drastic changes to Jakarta's governance.
Looking beyond the politics and the criticisms typically thrown at Ahok for his impulsive and borderline-offensive comments, I feel Governor Ahok's stern leadership is perhaps what Jakarta needs.
During a school excursion to City Hall, I had the opportunity to listen to Governor Ahok's philosophy and motto for his work in office. "We are not a beggar country," he said, "Our people have to build the nation collectively."
I found that sentence very inspiring because I want Indonesia to "level up" its status from being known as a third-world country. But a nation is nothing without its people. Jakarta, being the heart of Indonesia, is our starting point to instigate that change. It's really the citizens who inhabit Jakarta that will define what our nation will become.
(Read also: The revival of Bhinneka Tunggal Ika among the younger generations)
So how to do that? "For people to progress, we need to make [the people's] head, stomach and wallets full; we need to provide education, a sustainable food supply and opportunities for a stable financial situation," Ahok said. His vision effectively operates on American psychologist Abraham Harold Maslow's hierarchy of needs — once basic necessities are fulfilled, then the people can be motivated to contribute productively to nation-building efforts.
What I find most commendable about Pak Ahok is his bravery in standing up for his principles, despite his "double-minority" status, being of Chinese descent and a Christian. He dares to fight against corruption and Jakarta's messy bureaucracy. His policy of transparency in all governmental activities is a new concept in Indonesia's history of corruption. All government activity is journaled online for the public to access. Transparency builds the critical foundation of trust between a government and its people. Without trust, the people of Jakarta will always adopt a skeptical attitude toward our government and won't cooperate with the government's policies. Without cooperation, how can our city function?
An extension of Pak Ahok's bravery is also manifested in his firmness in action. It's one thing to voice strong opinions, but another to carry out what one says. "Judge me for my actions," Pak Ahok has often been quoted as saying in media reports. His actions indeed speak volumes. From the big things like managing red-light districts in Jakarta to the little things like widening walkways, Pak Ahok's promises do not fall short of the outcomes. With the help of the military, Pak Ahok is the first governor to enforce regulations on the gang-controlled areas of Kalidojo.
(Read also: Ahok aims for Jakarta to have attractive parks)
His bravery, I feel, is rooted in his strong passion to serve his country.
During a campaign rally on Dec. 15, Pak Ahok said, "Pejabat itu harus menjadi pelayan". Indicating that if you want to be a government official, you first need to understand how to serve others. To serve, one needs to listen.
Although typically known as a "speaker," Pak Ahok has implemented several platforms to act as his "listening ear". One prominent initiative is his Jakarta Smart City (JSC) project as a platform for receiving feedback from the people. Using smartphone technology is not only a resourceful way to maximize existing utilities, but it's also a way for Pak Ahok to connect with his people and show them that he values their opinions.
While outlining his plans to improve five main aspects of Jakarta: health, education, housing, transportation infrastructure and staple foods (sembako), Pak Ahok emphasized how education should be at the forefront of any effort to improve our city. But beyond offering education, we need to give the people a platform to pursue their endeavors.
So to the youth of Jakarta: It's important to be aware of the workings of our government because we are the future leaders of our country and we need to begin honing our skills in preparation for that task. Although you may not agree with some of Pak Ahok's rhetoric, if there is one important skill we can learn from him, it would be his solution-oriented mentality.
Yes, Jakarta is riddled with problems, but now we have to look forward. We can do better and offer solutions to Jakarta's traffic, flooding and corruption.
***
A self-proclaimed book-geek, semi-foodie and lexicon-lover, Sabrina Hartono is a 17-year-old student living in Jakarta. She loves history, literature, chemistry, not-really maths and waffles. An aspiring writer, she has started with her pilot project, "Forgotten Voices", which you can find out more about on jakartatreasures.com.
---------------
Interested to write for Youth channel at thejakartapost.com? We are looking for information and opinions from students with appropriate writing skills. The content must be original on the following topics: passion, leadership, school, lifestyle ( beauty, fashion, food ), entertainment, science & technology, health, social media, and sports. Send your piece to [email protected], subject: YOUTH. For more information click here.
Disclaimer: The opinions expressed in this article are those of the author and do not reflect the official stance of The Jakarta Post.
Topics :
You might also like :
Comments