Health coverage challenge: Reaching informal workers
Randi Julian Miranda, Nurlaela Jufri and Marianto

-
Jakarta |

Mon, May 21, 2018

| 01:42 pm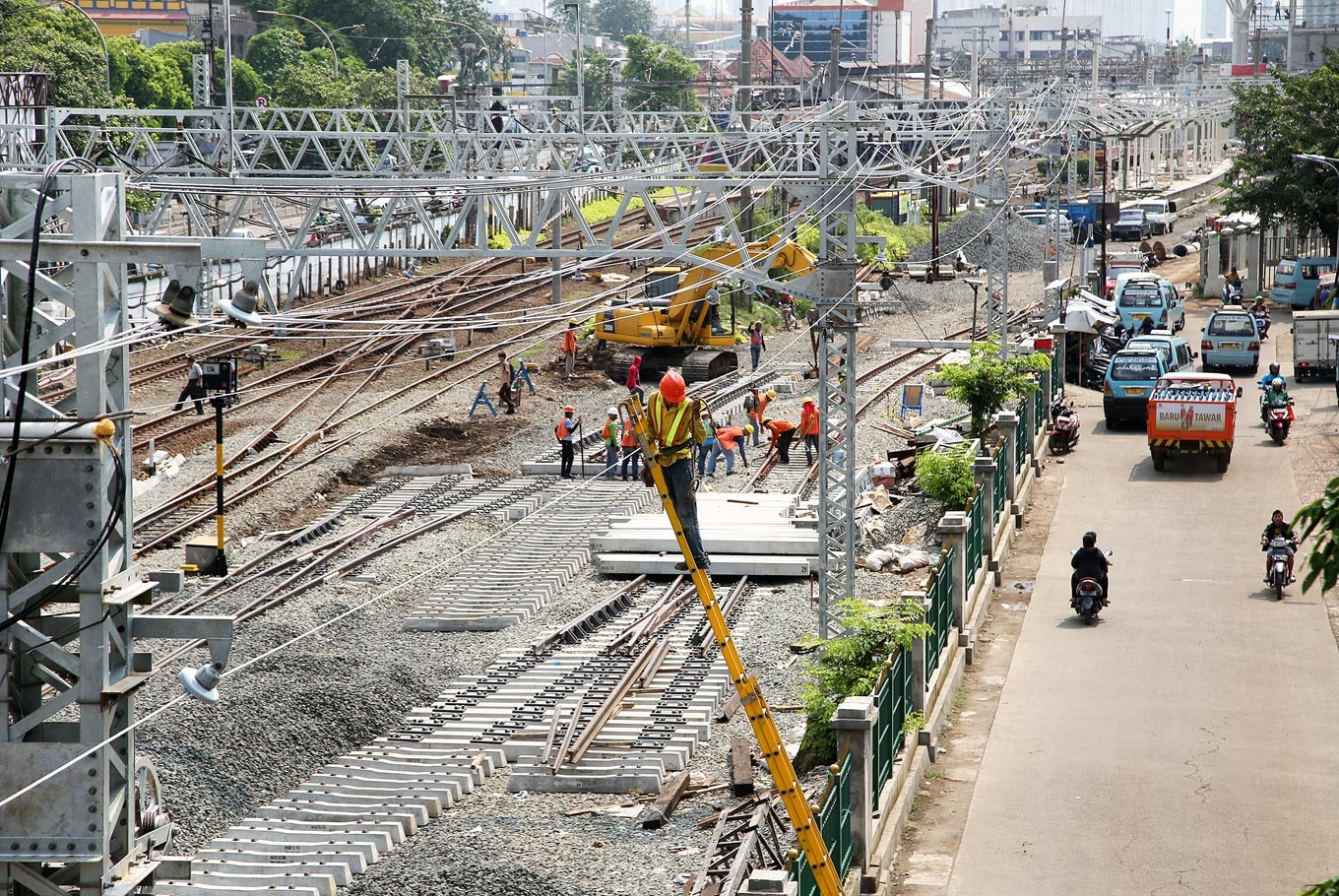 Power up: A worker checks one of the overhead lines running along the railway at Jatinegara Train Station in East Jakarta on Wednesday. A new cable was installed to boost the tracks' power capacity. (JP/P.J. Leo)
The establishment of the National Health Insurance (JKN) in 2014 marked the watershed of Indonesia's ambitious commitment to achieve Universal Health Coverage (UHC) by 2019. JKN is a new system that integrates multiple insurance schemes into a single national carrier of health insurance, namely BPJS Health, with a primary focus on low-income groups and workers in the formal sector.
As of 2018, 74 percent of Indonesia's population were covered by JKN. However, informal workers in particular are yet to be adequately covered. They are in the low-productivity sector which involves activities of the working poor, generally without any recognition, protection and regulation by the public authorities.
The challenges in Indonesia's health insurance to be inclusive of informal workers revolve around policy constraints in term of targeting method and inadequate social capital and facility resources.
Indonesia's UHC commitment for informal workers is compounded by the difficulty to identify those eligible to access government's coverage due to the absence of reliable data at the national and provincial level.
One major cause is the government's weak commitment to regulate the informal sector, and willingness to abide by the law from informal employers and employees. Another challenge includes the unavailability of formal avenues to collect their contributory premium.
Informal workers are more likely unregistered as employees especially casual workers. Therefore, it is difficult to administer and to collect contribution from this group. Many lack fixed contracts and are mostly seasonal and temporary workers paid on daily or weekly basis, often without fixed amount of salary, making their participation problematic. Although the government might be able to assist them in registration stage, their long-term membership remains uncertain.
Although the number of informal workers covered by the government experienced a slight increase to around 76.4 million, the remaining are not yet covered which means requiring them to join the scheme under payable fixed-amount premium by 2019.
Moreover, the current scheme employs an income cut-off approach to determine the eligibility of participants to get full subsidies from the government or they have to self-fund. This means a minimum income threshold is applied, where the government will cover the social health insurance (SHI) for informal workers whose salary is below the minimum threshold. This has led to inequity issues because the informal workers who share the same level of income are subject to different financial scenarios, and assumptions that workers whose salary is over the threshold could afford to pay for insurance is fundamentally biased.
Another problem is the big proportion of those living close to the poverty line. Therefore, implementing such a scheme without robust policies and alternatives would potentially exclude vulnerable groups in need of subsidies such as informal workers.
Many households in urban and rural areas who identify as informal workers quit their BPJS health membership only a few months after registration due to financial instability. There has also been wrong targeting where well off people were registered as non-contributing members and the opposite.
Lack of awareness on the significance of health, further impeded by limited access to information, quality healthcare services and easy payment method, also hampers Indonesia's UHC target. The fact that a huge proportion of poor Indonesians seem unaware of health protection makes it difficult to reach out to the lowest groups.
Information on BPJS health is not evenly distributed across the country, especially in rural areas where access to information is very limited. Consequently, the rural communities who are often engaged in the informal economy remain unaware of the significance of BPJS Health.
Raising public awareness about health alone without a sound understanding and strategy to deal with the intersecting demographic issues will remain an enigma.
This is further exacerbated by the uneven distribution of healthcare facilities. The majority of countryside still lacks quality public hospitals, and often the only accessible healthcare facilities are community health centers (Puskesmas). This has resulted in public reluctance especially the uncovered informal workers to register since they cannot access the maximum benefits of what they pay for. The payment methods also become another issue hindering people's willingness to join especially in rural areas. Most do not have access to banking and other available payment methods under BPJS scheme, creating another barrier.
Recommendation for the improvement of JKN might include increasing the enrollment of informal workers through better targeting policy and vulnerability analysis, an alternative campaign strategy to promote the importance of JKN and expand the coverage. This, of course, needs to come with better quality and distribution of health facilities, and convenient payment methods especially in rural areas.
***
Randi Julian Miranda has an extensive experience working in forest governance, community empowerment and sustainable development with some NGOs including the Heart of Borneo Project (HoBP), International Labour Organization (ILO), The Forest Trust and grassroots NGOs in Indonesia. His research focuses on forest governance, human rights and gender equality. He can be reached via email: [email protected]
Nurlaela Jufri is an experienced social worker who obtained her degree from the University of Melbourne. She has worked extensively in child protection, community development and gender-based violence. She has worked with the Ministry of Social Affairs Indonesia (MoSA), Empowering Indonesian Women for Poverty Reduction Program (MAMPU). Her research is related to social policy and development particularly disability issues and gender equality. You can reach her via email: [email protected]
Marianto is a young medical doctor with four years of experience working in remote areas in Sumatera and Kalimantan. He is passionate about public health services and epidemiology. He can be contacted at [email protected]
Disclaimer: The opinions expressed in this article are those of the author and do not reflect the official stance of The Jakarta Post.
Join the discussions