'Anak Jaksel' jokes inspires map, talks on geopolitics of lifestyle
Callistasia Anggun Wijaya

The Jakarta Post
Jakarta |

Fri, September 7, 2018

| 08:58 am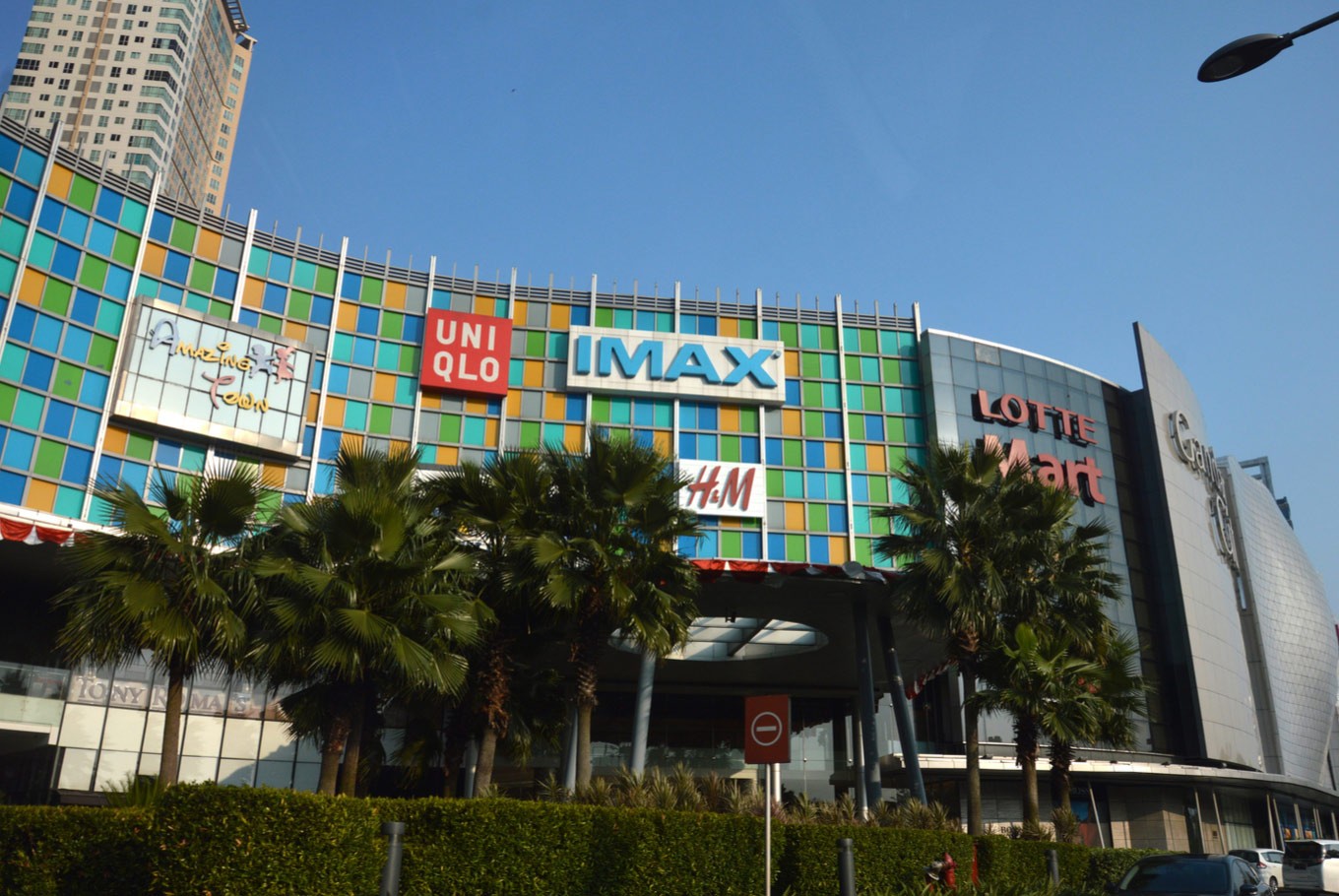 Gandaria City is an upscale mall in South Jakarta. (Shutterstock.com/antoni halim)
Netizens have slammed "mix-lingo" comments highlighting the unique way people in South Jakarta speak, arguing that the generalizations were inaccurate as most residents of the municipality do not fuse English and Indonesian in their daily conversations as stereotyped.
In the past few days, Twitter has been filled with jokes on how anak Jaksel (young South Jakartans) often use the words "literally" and "which is" in the middle of their Indonesian sentences.
Behind the jokes and memes, however, are talks about the geopolitics of lifestyle and Jakarta's socioeconomic class system.
Read also: Mix lingo 'literally' a thing for South Jakartans
Hanung Baskoro, 29, a resident of Pasar Minggu, South Jakarta, responded to the jokes by creating a map of South Jakarta with details of the characteristics each area is known for, because he thought not all young South Jakartans fit the anak Jaksel description of the recent viral jokes.
He posted the map on Facebook and it has since made the rounds on social media.
According to Hanung, most people would associate South Jakarta with some of its upscale areas, such as Pondok Indah, Gandaria, Blok M, the Sudirman Central Business District (SCBD) and Jl. Sudirman – all of which are marked light blue on his map.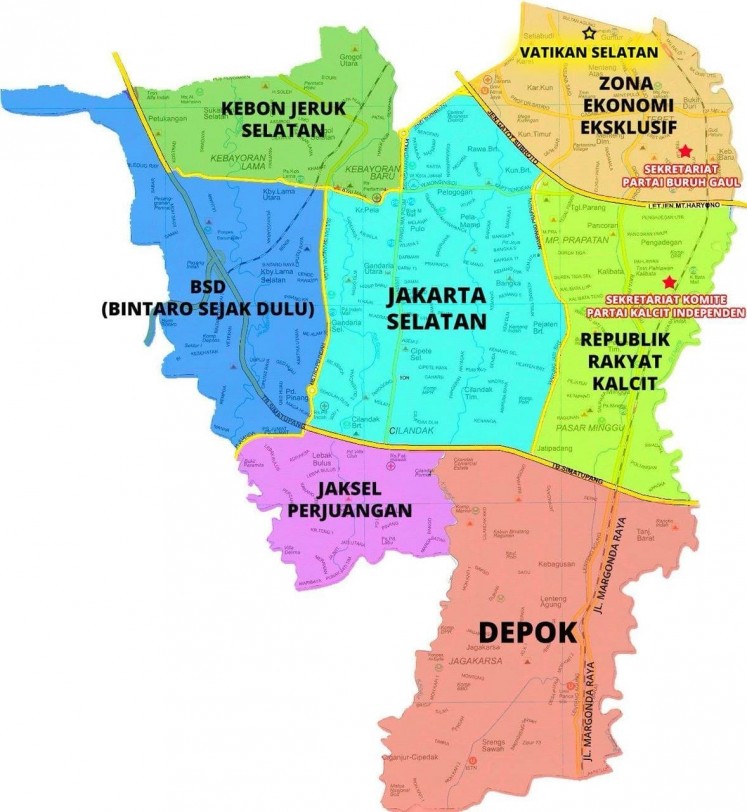 South Jakartan Hanung Baskoro makes a map to respond to the viral jokes. (Courtesy of Hanung Baskoro/-)
Besides speaking in so-called mix-lingo, people living and working in the area are stereotyped as upscale café-goers who love indie musicians, like Barasuara and Sore, said Hanung, who works as a freelance illustrator.
Other areas like Mampang Prapatan, Pasar Minggu and Kalibata are grouped as Republik Rakyat Kalcit (Kalibata City Republic). Hanung said the mix-lingo stereotypes only applied to the "upper class" area, and his home, Pasar Minggu, was not one of them.
"Nothing is special about Pasar Minggu people. We don't talk and hang out in fancy places like anak gaul [cool kids]. We're just normal anak kompleks [children living in a residential complex]," Hanung said jokingly.
He included Pasar Minggu and its nearby areas as Republik Rakyat Kalcit because residents of Kalibata City, a popular middle-class apartment complex, usually hang out there.
The area is the Kalibata City tenants' territory, Hanung said laughingly.
He classified areas on the outskirts of South Jakarta, such as Lebak Bulus and Fatmawati as Jaksel Perjuangan (South Jakarta of Struggle), because they are also in the middle-income bracket.
Hanung then grouped other business areas, such as Mega Kuningan and Setiabudi as an exclusive economic zone and labeled the northern part of it "South Vatican" and another area "Trendy Labor Party Secretariat".
"In the Guntur area, there is the Anugerah Community Church, which often holds social and political discussions. I often come to the discussions," Hanung said, explaining the term South Vatican.
The "Labor Party" is the office of Sindikasi, a labor union for media and creative industry workers who "face the precariousness of the digital economy era" and Hanung, an illustrator, is a member of the union.
Twitter users had fun discussing the map, with many agreeing on the borders and terms Hanung created to label the various parts of South Jakarta.
Gladhys Elliona, for example, said that anyone who grew up in South Jakarta would immediately understand the "political map".
Jakarta Selatan lahir dan besar tentu mengerti peta politik ini dengan sekejap. pic.twitter.com/LEWBRIKJC6

— Gladhys Elliona (@_gladhys) September 3, 2018
Another agreed that the stereotype of "indie South Jakartans" applied only to a part of the municipality.
When people say anak indie Jaksel, this is the Jaksel they mean pic.twitter.com/EJ4TeTA33i

— Risetioz (@risetioz) September 3, 2018
However, Twitter user @Ridu argued that the borders of the map were inaccurate, especially the division of West Cilandak and South Jakarta and the Jaksel Perjuangan area.
"There are two international schools in [RW] community unit 02 in West Cilandak, which is, since the children are babies, they have talked in mix-lingo. The seeds of South Jakarta culture had been ingrained in them from an early age. However, the area is classified as Jaksel Perjuangan," @Ridu tweeted, making proper use of mix-lingo.
The Twitter user continued to criticize Hanung's classification of Pondok Labu as Jaksel Perjuangan.
Tanggapan anak Jaksel terhadap peta ini. A thread. pic.twitter.com/GjGPRvustN

— Ridu (@ridu) September 3, 2018
"Pondok Labu, which borders with Cinere can't be classified as Jaksel Perjuangan because there are private and public schools that are known to contribute to the Jaksel Culture. Raisa, Afgan, Andien, Gita Gutawa, for instance, are alumni of Pondok Labu [schools]," @Ridu said, referring to popular musicians.
Hanung underlined that he had made the map as a joke and it should not be taken seriously.
"I made it for fun," he said. (evi)
Topics :
Join the discussions