Pertamina adds health posts in Balikpapan to fulfill public health needs

Jakarta, Indonesia |

Tue, April 10, 2018

| 12:03 am . (./.)
State-owned energy company Pertamina collaborated recently with Pertamina Balikpapan Hospital to open health posts in the villages of Baru Ulu and Atas Air, as well as in Nenang subdistrict in the town of Penajam in East Kalimantan. These health posts are designed to administer health check-ups and provide locals with free medicine.
Pertamina also used the occasion of the April 7 health post openings to put the public's mind at ease by conducting a gas test to ensure that gas concentrations in these aforementioned areas in East Kalimantan did not exceed normal limits. Gases in the air were tested, including the availability of oxygen, as well as the presence of carbon and hydrogen sulfide (H2S).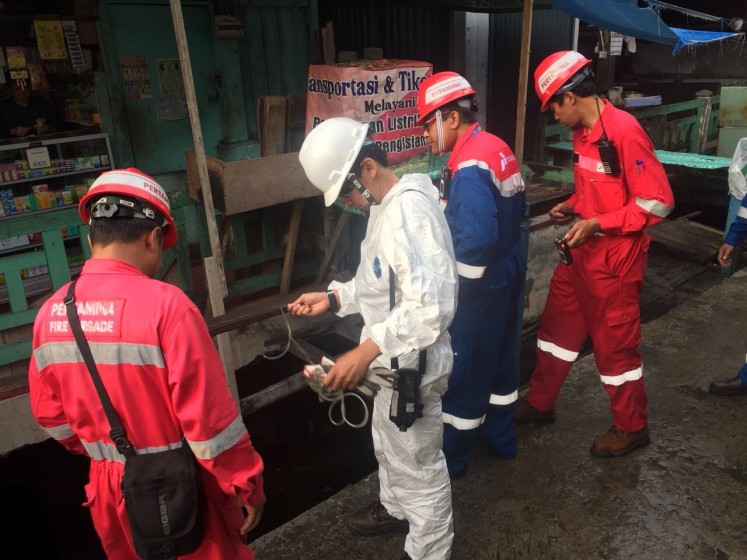 . (./.)
Throughout these examinations, which took place over a couple of days, Pertamina found that oxygen levels were at normal range levels, specifically, between 19 and 23 percent. Meanwhile, carbon was at below 20ppm. Combustible gas was under 5 percent LEL and H2S was under 10ppm. On April 7 specifically, the company found that oxygen was at 20.8 percent, carbon at 0ppm, combustible gas at 0 percent, and H2S at 0ppm. In addition, Pertamina also held a familiarization campaign to raise awareness among locals on current conditions involving gas and what to do in case of irregularities.
Meanwhile, the clean-up process for the recent oil spill in Balikpapan Bay continues through the use of vacuum trucks, oil absorbents and oil spill dispersal equipment to remove the spilled oil from Jetty 1 in places throughout Semayang Harbor and Plaza Balikpapan. Cleaning up oil remains at the offshore bay at Balikpapan made similar use of oil skimmers and tugboats.
You might also like :