Heavy punishment key in fight against illegal wildlife trade: Activist
Rizal Harahap

The Jakarta Post
Pekanbaru, Riau |

Fri, September 9, 2016

| 09:44 pm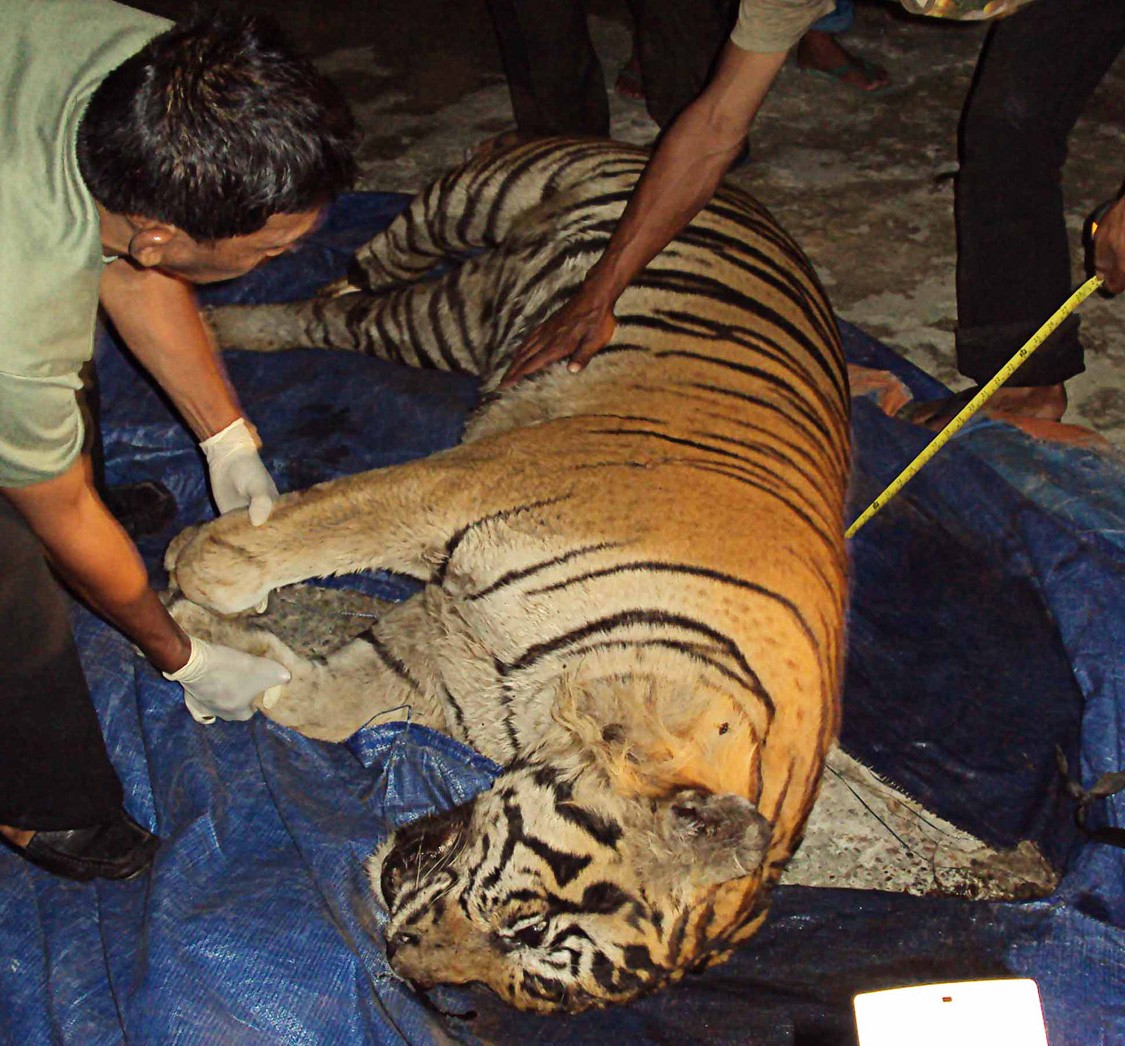 Wildlife crimes – officials of the Riau Natural Resources Conservation Agency examine the body of a Sumatran tiger killed by poachers in September 2010. (JP/Rizal Harahap)
Wildlife trade will not come to an end until Indonesia's legal system imposes heavy sentences with a deterrent effect on people who illegally hunt or trade animals, an activist has said.
Osmantri, coordinator of the World Wildlife Fund's (WWF) Wildlife Crime Team in Riau, said tough penalties for wildlife poaching in Indonesia were few and far between, which had led to a rapid loss of species in the country.
Meanwhile, he praised the Rengat District Court, which sentenced two Sumatran tiger skin traders to four years in prison and ordered them to pay Rp 60 million (US$4,572) in fines, in a trial on Friday.
"This is the first illegal tiger skin trading case brought to justice in Riau this year. The court's verdict meets the expectations of many people. It's a great achievement. Hopefully, this will have a deterrent effect on other wildlife crime perpetrators," said Osmantri.
He said few judges imposed heavy sentences for wildlife crimes in Sumatra, especially in Riau. "I hope this can serve as reference for court judges across Indonesia."
In the past, Osmantri said, perpetrators of crimes against protected species in Riau had been sentenced to just one or two years in prison.
Based on WWF Riau data, only eight Sumatran tiger skin trading cases were brought to court so far. Four cases had been handled at the Rengat District Court, three at the Pekanbaru District Court and one at the Tembilahan District Court.
"At the Pekanbaru court, for instance, a wildlife crime suspect, who had sold two sheets of tiger skin was sentenced to less than one year in prison," Osmantri lamented. (ebf).
Topics :
You might also like :
Comments