More companies committed to employing disabled people
Jakarta |

Sat, December 17, 2016

| 09:31 am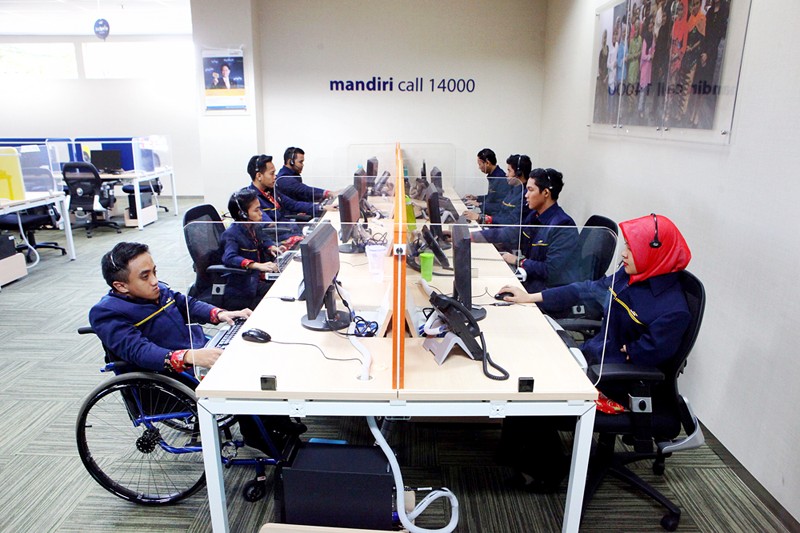 Right to work: Disabled employees work at a Bank Mandiri call center in Ciputat, South Tangerang, on Friday. Bank Mandiri plans to hire up to 100 people with disabilities by the end of this year. (JP/Seto Wardhana)
Irawan Mulyanto, 42, could not hide his gratitude when he realized that several big companies had committed to employing disabled people, such as him. Losing his eyesight 15 years ago, his opportunities and hope soon diminished, leaving him jobless.
In a country where 250 million people live, half of whom are active in the workforce, people with disabilities are more likely to end up as burdens for — rather than backbones of — their families. There are too few companies that have enough "beyond-financial" understanding to welcome them to join their teams.
Irawan was sitting among good people — literally. He witnessed five companies signing a commitment, establishing the Indonesia Disabled and Business Peoples Network to share experiences and assistance in employing disabled people.
They are state-owned lender Bank Mandiri, private lender Standard Chartered (Stanchart) Bank, cosmetics company L'Oreal Indonesia, food packaging and processing firm TetraPak Stainless Equipment and retail giant Trans Retail Indonesia.
"This gives us hope that not only non-disabled people are welcomed to work in the formal sector," Irawan, who works as a telephone operator at private television station Metro TV on Friday.
Trans Retail human resources and corporate affairs director Herni Dian said proper preparations were needed to educate non-disabled workers to be able to cooperate with their disabled fellows and prepare sufficient training.
The firm now employs 200 people with disabilities as cashiers, quality control officers, back office staff, administration staff and human resources officers.
Stanchart has employed eight disabled people in its sales, help desk and call center divisions since 2008. "We recruit them based on their skills," said Afriani Sinaulan, learning and development manager at Stanchart, adding that one of its employees was able to speak six languages, proving that some of them do have exceptional skills compared to non-disabled people.
TetraPak has had three disabled employees since 2002 working as engineering, master data and warehouse staff, while L'Oreal Indonesia has come up with a new plan to train mostly deaf people next year on make-up skills and hairdressing. So far, L'Oreal employs five disabled people in its factory's packing section.
The five companies are indeed doing great jobs, but unfortunately the number of unemployed people with disabilities remains high. According to research conducted by the Institute for Economic and Social Research, School of Economics and Business at the University of Indonesia (LPEM FEB UI), disabled people make up about 12.15 percent of the total workforce in the country, equaling 15.18 million people.
Fifty-one percent of them are in the labor market, while the remaining are jobless. The bad news is that 65.54 percent of them are working in the informal sector, which means less wages, benefits and an uncertain future.
Therefore, Rosma Handayani, Bank Mandiri's senior vice president and head of the human capital services group, called for more companies to join the network. Bank Mandiri has so far employed 41 disabled people working as call center, back office and human capital resources staff.
State-owned enterprises and provincial administration-owned companies should make sure that at least 2 percent of their total workforce are disabled people. Private companies are also expected to provide jobs for disabled people, accounting for 1 percent of all their workers.
Indonesian Institute of Sciences (LIPI) economist Latif Adam called on the government to provide valid data on the current number of disabled people, with their skills, education and regions. "It will help the private sector to find prospective talent," he said. (wnd)
Topics :
You might also like :
Comments