Jakarta prepares 3,674 buses for Idul Fitri exodus
News Desk

The Jakarta Post
Jakarta |

Wed, June 14, 2017

| 09:13 pm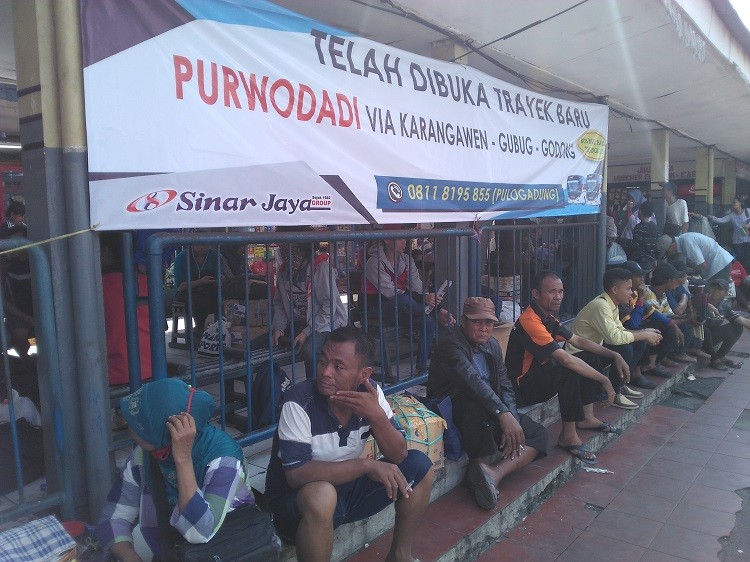 Travelers wait for a bus to take them to their hometowns at Pulogadung bus station in East Jakarta, ahead of the Idul Fitri celebrations last year. (JP/Muhammad Reza)
The Jakarta administration will make 3,674 buses ready to transport holidaymakers during the Idul Fitri exodus, which will reach its peak next week.
Jakarta Transportation Agency head Andri Yansyah said the administration would prepare supporting vehicles such as inner city and tourist buses to back up regular intercity and interprovincial (AKAP) buses.
"The tourist buses are only backups in case of a passenger spike. But only 30-40 percent of them are used usually," Andri said.
The buses are available in eight terminals in Jakarta, which are being prepared for the Idul Fitri exodus. There are three main terminals, namely Pulo Gebang and Kampung Rambutan in East Jakarta and Kalideres in West Jakarta.
Meanwhile, there are five supporting terminals namely Pinangranti in East Jakarta, Tanjung Priok and Muara Angke in North Jakarta, Grogol in West Jakarta and Lebak Bulus in South Jakarta.
"The destinations are West Java, Central Java, East Java, Sumatra, Madura and Bali," Andri added.
All buses should pass ramp checks. So far 710 buses have undergone roadworthiness tests. However, only 60 percent are eligible to operate. The ineligible buses were given the chance to make good any deficiencies.
Andri said that the problems of the ineligible buses included lack of rearview mirrors, horns, signage lighting, fire extinguishers and bald tires as well as poor brakes. The next ramp checks will be conducted 10 days before D-day.
"If we do the ramp checks and discover the same problems, we will cease their operation," Andri said as quoted by kompas.com. (dra)
Topics :
Join the discussions