Press, societies launch antihoax website
Sita W. Dewi

The Jakarta Post
Jakarta |

Sat, May 5, 2018

| 04:38 pm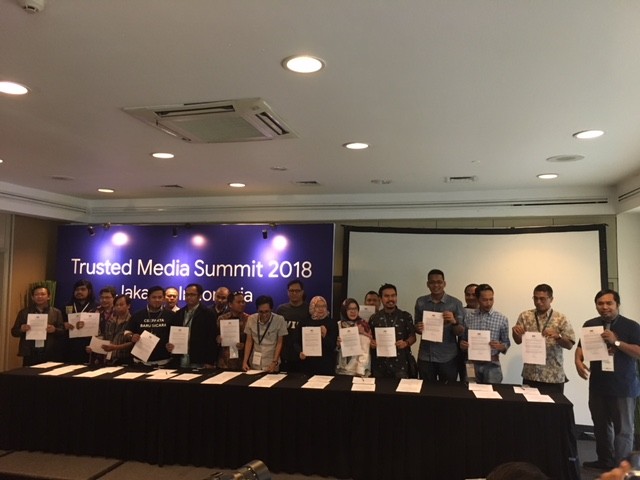 Representatives of 22 media organizations from across Indonesia pose for a photograph at the 2018 Trusted Media Summit in Jakarta on Saturday after signing a memorandum of understanding on a collaborative project to debunk false news. (JP/Sita Dewi)
In an unprecedented move, 22 national and regional news media organizations and a number of associations have launched a website to debunk false news and hoaxes ahead of the 2019 elections.
The name of the website, cekfakta.com, translates to "fact check" in English.
The joint project was initiated by the Alliance of Independent Journalists (AJI), the Indonesian Cyber Media Association (AMSI), the Indonesian Anti-Slander Society (Mafindo), Internews and Google News Initiative.
The news media organizations--most of which are online news media or the digital version of established dailies--comprise tirto.id, viva.co.id, swara.com, detik.com, kompas.com, liputan6.com, merdeka.com, katadata.co.id, beritajatim.com, kbr.co.id, bisnis.com, beritasatu.com, kabarmedan.com, kabarmakassar.com, antaranews.com, timesIndonesia.co.id, riauonline.co.id, thejakartapost.com, republika.co.id and mafindo.or.id, which is run by the Mafindo association.
Representatives of the organizations signed a memorandum of understanding on the collaboration during the 2018 Trusted Media Summit, held on Saturday and Sunday at the Gran Melia Hotel in Jakarta.
"AMSI believes that the initiative is a breakthrough that this country needs to fight hoaxes and disinformation, especially ahead of regional elections this year and legislative as well as presidential elections next year," AMSI chairman Wenseslaus Manggut said in Jakarta, adding that the initiative was the first of its kind in Indonesia.
The collaboration also marked a new era in digital journalism, added AMSI secretary-general Wahyu Dhyatmika.
"It's time to work together instead of competing with each other. Fighting hoaxes can't be done individually," Wahyu said.
To date, several online news outlets have a feature to report and debunk hoaxes on respective websites, but they were operating individually.
Wahyu mentioned predecessors France's award-winning crosscheck and Taiwan's cofacts as inspiration as well as models of the project.
Misinformation and disinformation in Indonesia are alarming. According to Communication and Information Ministry Public Communication and Information Director General Niken Widiastuti, 90 percent of false news or hoaxes circulating online were shared by readers, while only 10 percent of them were shared by the producers themselves.
Join the discussions