Govt to accelerate development of dams for food self-sufficiency
Andi Hajramurni

The Jakarta Post
Makassar, South Sulawesi |

Wed, July 4, 2018

| 09:51 am Dam plan: President Joko "Jokowi" Widodo (center) talks about the construction progress of Paselloreng Dam in Arajang village, Gilireng district, Wajo regency, South Sulawesi, on July 3. (JP/Andi Hajramurni)
President Joko "Jokowi" Widodo has pledged to complete the construction of eight dams so that water needed to irrigate agricultural land can be available, allowing for immediate food self-sufficiency.
The President made the statement during his visit to Paselloreng Dam in Arajang village, Gilireng district, Wajo, South Sulawesi, on Tuesday.
"We are developing 49 dams, eight of which are targeted to be completed this year. The dams are being developed to supply water for agricultural irrigation. The aim is to realize our food self-sufficiency target," said Jokowi.
Paselloreng is one of eight dams under development. The seven others are Rotiklot in East Nusa Tenggara, Tanju-Mila in West Nusa Tenggara, Gondang and Logung in Central Java, Sei Gong in Batam, Sindang Heula in Banten and Kuningan in West Java.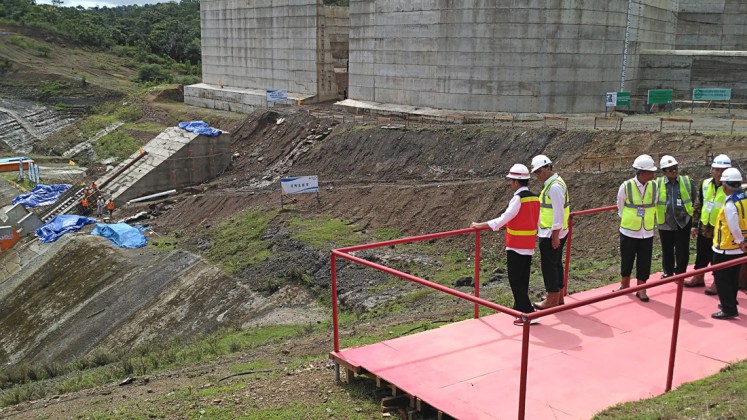 Progress: President Jokowi inspects Paselloreng Dam in Arajang subdistrict, Gilireng district, Wajo regency, South Sulawesi, during a visit on July 3. Once finished, the dam will hold up to 138 million cubic meters of water and irrigate 7,000 hectares of rice fields. (JP/Andi Hajramurni)
Paselloreng Dam is 73 percent complete. Jokowi said he was optimistic that the development of the dams would be finished no later than February 2019, earlier than the initial target of July.
The construction of Paselloreng Dam began in 2015 and costs an estimated total of Rp 736 billion (US$51.43 million) in funds from the state budget.
Jokowi said the dam had the capacity to accommodate 138 million cubic meters of water and would be able to irrigate 7,000 hectares of rice fields, with a hydro power plant with a capacity of 2.5 megawatts.
The dam will be built on 1,849.88 ha of land belonging to local people. So far, 681.98 ha or 36.87 percent of the total have been acquired. (swa/ebf)
Join the discussions