EDITORIAL: A shot at equal happiness
EDITORIAL

The Jakarta Post
Jakarta |

Thu, March 8, 2018

| 08:15 am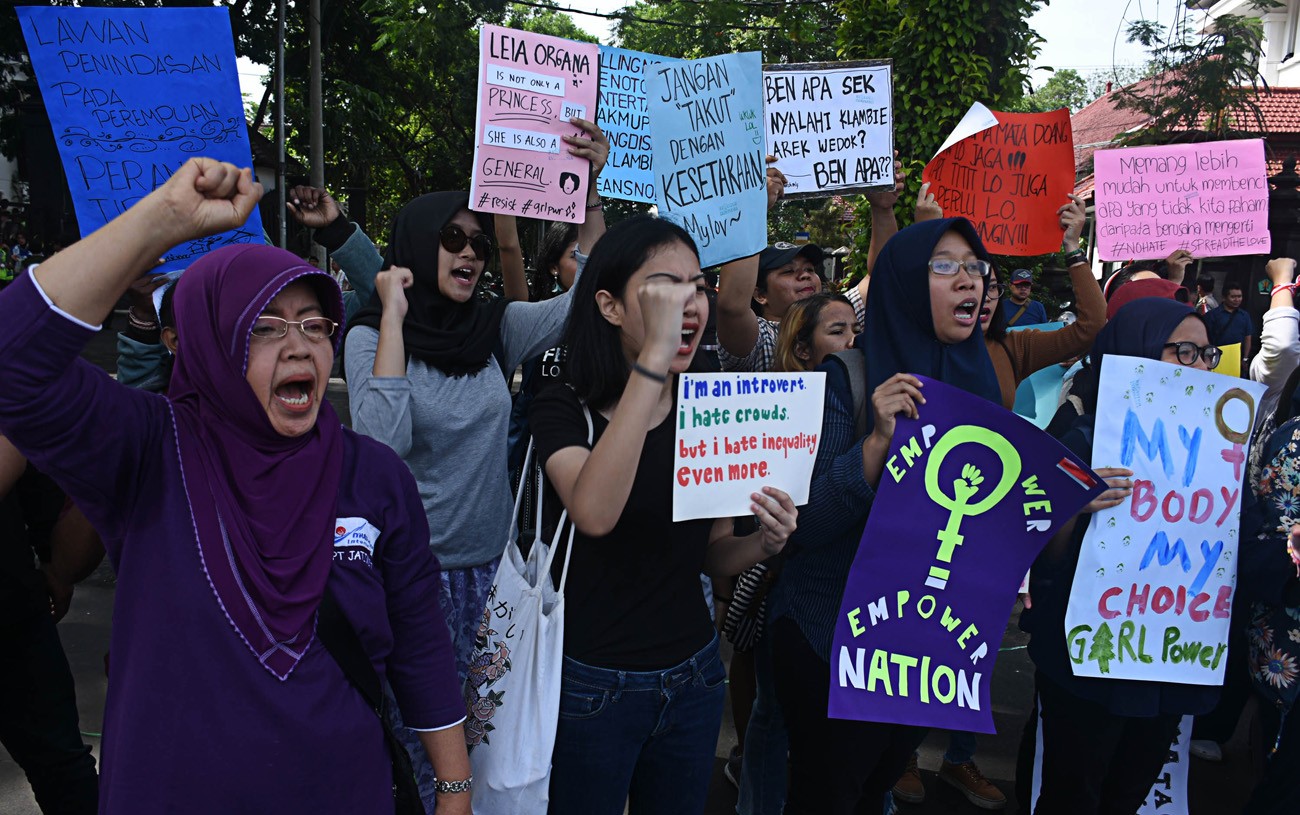 Standing for the rights: Women's rights activist stage a peaceful rally to commemorate the International Women's Day in Malang, East Java, on March 5. (JP/Aman Rochman)
Elections provide another shot for constituents to live better, happier lives. As half the voters are women, this year's aspiring governors, mayors and regents should share a fervent hope to end problems stemming from outdated views on women.
International Women's Day on March 8 falls in the early weeks of the campaign period between Feb. 15 and June 23, ahead of the simultaneous regional elections on June 27. The time available must be used to push male and female candidates, their political parties and campaign teams to address some of the most crucial issues in their respective regions — and rush to create specific programs to resolve them.
In the elections across 17 provinces, 115 regencies and 39 mayoralties, out of 1,140 candidates, only 101 or 8.85 percent are women, including two gubernatorial candidates. Women make up around half of the 160 million eligible voters, and despite a slight increase in the number of female candidates from the previous simultaneous regional elections in 2016 and 2017, they are still hugely underrepresented. Many still consider women less qualified for and less interested in politics.
All candidates thus need to tackle issues such as low female participation in the local labor force, high maternal mortality rates, child marriage and violence against women. Such problems are detrimental to all.
As the International Monetary Fund recently noted, more women in the labor force, for instance, could boost national economic growth. The large number of high school students who drop out for marriage is blamed for domestic violence, unhealthy pregnancies and infants, high mortality rates among young mothers and children and intergenerational poverty.
Low access to quality health care for pregnant women, particularly in remote areas, has also contributed to the persistently high maternal mortality rate. But election watchers say even female candidates do not necessarily offer programs to better ensure regular check-ups for pregnant women, for instance.
Therefore, although only East Java and West Kalimantan have female gubernatorial candidates in former minister Khofifah Indar Parawansa and Karolin Margret Natasa, respectively, all candidates need to find breakthrough policies to improve the lives of their constituents.
Culture and poverty, for example, are no longer acceptable excuses for marrying off girls, some even before 16, the legal marriage age. Even if the Constitutional Court has accepted "fear of sin" arguments to reject appeals to increase the legal age of marriage for women from 16 to 18, local leaders could follow outgoing West Nusa Tenggara Governor Muhammad Zainal Majdi, a local Islamic leader who issued in 2015 a progressive circular urging all authorities to increase the minimum age of marriage to 21 to ensure that couples mature physically and mentally.
Critics cite election fatigue and continued corruption among female and male leaders. But as decentralization has opened up space for innovative leaders, some jewels might emerge in the next shot at democracy and equality.
Topics :
Join the discussions