Indonesia posts US$1b balance of payments surplus in 4th quarter of 2017
Marchio Irfan Gorbiano

The Jakarta Post
Jakarta |

Fri, February 9, 2018

| 10:53 pm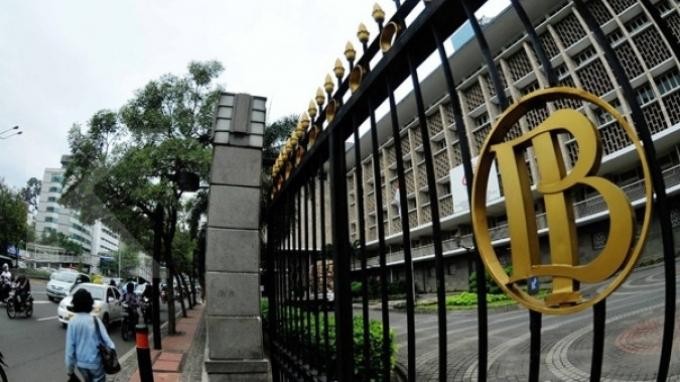 A pedestrian passes through Bank Indonesia building in the capital Jakarta. (*/TRIBUNNEWS)
Indonesia recorded a US$1 billion balance of payments surplus in the fourth quarter of 2017 on the back of improving capital and financial accounts amid rising inflows.
The overall balance of payments surplus throughout 2017 reached $11.6 billion, indicating balanced external conditions supporting macroeconomic stability, said Bank Indonesia's (BI) undersecretary for communications Junanto Herdiawan in a statement.
Capital and financial accounts saw a surplus of $6.5 billion in the fourth quarter last year amid investor optimism toward Indonesia's economy and improvement in yields of domestic financial assets. However, the surplus recorded was lower compared to a quarter earlier.
The lower surplus in capital and financial accounts was caused by several factors, the first being a declining surplus in direct investment, including in oil and gas.
Another factor was a decrease in surplus of portfolio investment because of outflows of foreign money in rupiah-denominated securities given the rising uncertainty in global financial markets in the early fourth quarter of 2017.
However, the country remained to see rising capital inflows, which helped drive its foreign exchange reserves to its highest point at $130.2 billion as of December last year, sufficient to finance up to 8.3 months of imports and foreign debt.
The deficit in the current account, meanwhile, rose to $5.8 billion, or 2.2 percent of the country's gross domestic product (GDP), in the fourth quarter of 2017. The deficit was higher compared to $4.6 billion, or 1.7 percent of GDP, recorded in the earlier quarter.
The overall current account deficit throughout 2017 stood at $17.3 billion, or 1.7 percent of GDP.
Junanto attributed the rising current account deficit to the declining surplus in the trade balance because of higher increases in imports compared to exports, and the surging deficit in the services balance.(gda)
Join the discussions