A long walk to tolerance in town
News Desk

The Jakarta Post
Jakarta |

Thu, December 28, 2017

| 09:06 am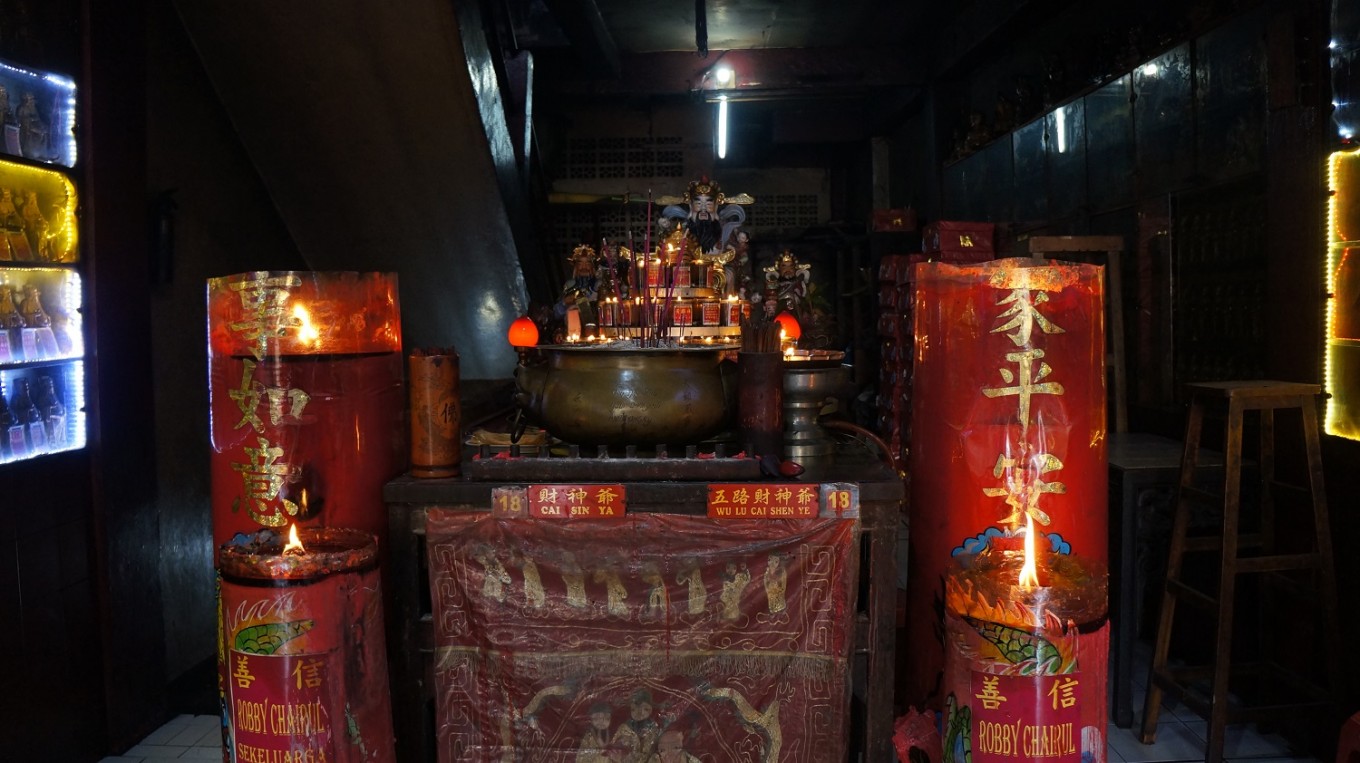 One of the altars inside Sin Tek Bio Temple. (JP/Jessicha Valentina)
Nuniek Handayani, a 37-year-old mother from Bogor, was dismayed when she first realized that the tour group she signed up for would not be going by bus.

After hearing about the Wisata Kebhinnekaan, or Diversity Tour, from a friend, she brought along her 10-year-old daughter Nicole and eight-year-old son Daniel on a train ride to Gambir Station in Jakarta as an educational way to fill their end-of-year vacation.

"Oh, it's a walking tour!" she exclaimed shortly after arriving at the meeting point for the tour, a minimart near the station's entrance.

Worried that her children would not be up for a long walk, she almost pulled out of the tour altogether. However, at the urging of her friend, she decided to give it a try, thinking she could always leave earlier if the kids got tired.

On Dec. 23, Nuniek and her children were among 15 people — nine Catholics and six Muslims — who braved the heat and humidity of a Central Jakarta afternoon and walked some 4.2 kilometers over the better part of four hours to visit five different houses of worship that encompassed Indonesia's six officially recognized faiths.
Read also: Five places to go in Jakarta to observe religious diversity
The tour would stop at Immanuel Church, Istiqlal Mosque, Jakarta Cathedral, the Sin Tek Bio temple and the Sri Nilacala Dhama Hare Krishna temple.

Journalist-turned-tour-guide Ira Lathief led the trip. She started the tour as a way to raise money for Diversity Festival, which she plans to hold next month and is to include interfaith discussions, movie screenings and walking tours.

Ira, a Muslim, is committed to the idea of tolerance and diversity, which are enshrined in Indonesia's national motto Bhinneka Tunggal Ika (Sanskrit for "Unity in Diversity") and the state ideology Pancasila.

"The goal of this tour is not just to see the houses of worship, but also to hear the stories of
diversity and pluralism and how the different religions interact with each other," she told the participants before they set off.

Immanuel Church, the tour's first stop, is an impressive sight. With its white pillars and tall, domed roof, it is recognizable even from a distance. One of the oldest churches in the country, it was built in the 1830s by colonial Dutch Lutherans, and is now home to the Western Indonesian Protestant Church, a Calvinist branch of Protestantism.

The next house of worship on the route was Istiqlal Mosque, the largest mosque in Southeast Asia. After removing their shoes, the group members went up three flights of stairs to a balcony overlooking the main prayer hall. There, Ira described the mosque's pluralist history and nationalist symbolism.

Its architect was Frederich Silaban, a Christian from North Sumatra who won a design competition for the mosque in 1955.

"The dome is 45 meters in diameter, representing the year of Indonesia's independence," Ira said.

"And the mosque has five floors, symbolizing Pancasila and also the five pillars of Islam."

She also explained how former president Soekarno decided that the mosque should be built right across the street from Jakarta Cathedral and how the two houses of worship shared parking spaces on each other's holy days.
Read also: Jakpost guide to Monas area
Next up was the cathedral, whose neo-Gothic ivory spires were visible as the group exited the mosque.

There, the nationalist symbolism was significantly less subtle: a large Garuda Pancasila, Indonesia's national emblem, sits right next to a Christmas tree near the church entrance.

The last two stops on the tour were significantly less imposing than the first three. The Sin Tek Bio temple and pagoda, first built in the 17th century, are tucked away in the corner of a back alley in Pasar Baru, while the Hare Krishna temple is a similarly modest building located less than 200 m from the market's entrance.

Despite her aching feet, Nuniek ended up staying until the end of the tour, and was happy that she did. A Muslim, she is married to a Catholic and their children are raised under the Catholic faith.

"After this tour, I think it is even clearer to me that all the religions basically teach the same thing: to love our fellow humans," she said.

"There's really nothing to debate."

She prayed at Istiqlal Mosque, she said, but she also prayed at the cathedral, and at the pagoda, and at the temple.

"If the different religions knew each other better, and everyone followed their religion's teachings, then there wouldn't be any problem," she said. (kmt)
Join the discussions