Trade: Can Indonesia give Palestine favorable treatment?

Jakarta |

Mon, August 27, 2018

| 10:16 am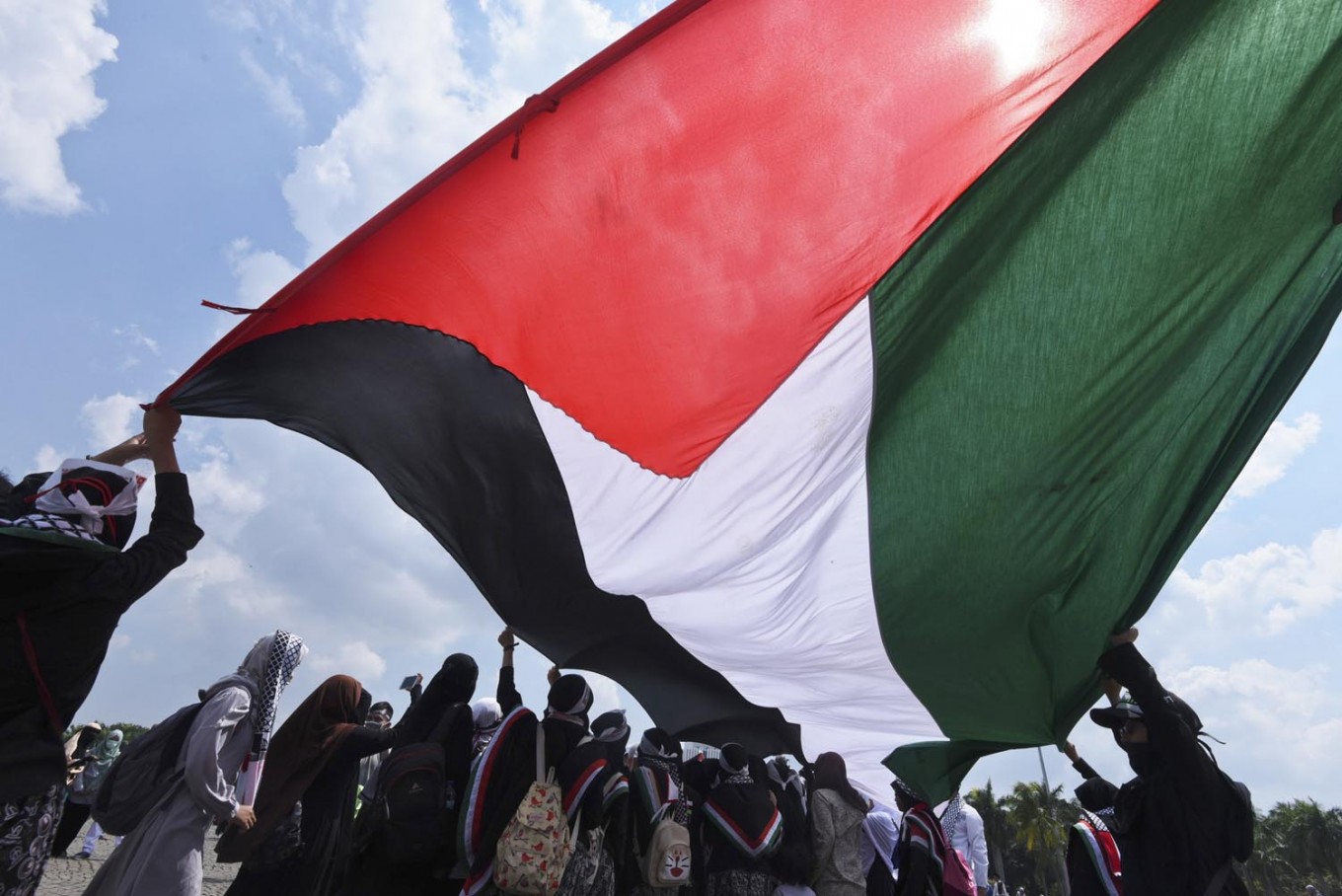 A rally to express solidarity with Palestine was held in Jakarta on May 11, 2018. (Antara/Hafidz Mubarak A)
On the sidelines of the 11th World Trade Organization (WTO) ministerial conference in Buenos Aires, Argentina, in December 2017, Indonesia and Palestine signed a memorandum of understanding (MoU) on trade facilitation for certain products originating from Palestine.

Indonesia subsequently ratified the MoU on April 11, 2018 through Presidential Regulation No. 34/2018 and at the beginning of August, Indonesia and Palestine signed an implementing agreement (IA) of the MoU. The IA document, according to a Trade Ministry media release, gives technical guidelines of the MoU on zero percent import duties for Palestinian dates and pure olive oil.

The IA and MoU indeed demonstrate the country's strong commitment to supporting Palestine's economic development. An intriguing question then arises as to whether Indonesia as a WTO member will be in breach of WTO's nondiscrimination principle, known as the most-favored nation (MFN) obligation, by providing favorable treatment to Palestine, which is neither a member nor an observer of the WTO.

The MFN treatment obligation prohibits WTO members from discriminating against products originating in or destined for different countries. MFN treatment as provided under Article I:1 of the WTO's General Agreement on Tariff and Trade (GATT) refers to any favorable treatment granted by any WTO member to any product originating in or destined for any other country. The phrase "any other country" indicates any third party irrespective of its membership in the WTO. Therefore, favorable treatment granted by a WTO member to a non-WTO member is subject to the MFN treatment obligation.

For instance, Indonesia currently imposes a 5 percent MFN tariff on fresh and dried dates (Harmonized System/HS Code 080410). By offering zero percent import duty on dates from Palestine, other major exporters of dates to Indonesia such as Tunisia, the United Arab Emirates, the United States and Israel could demand the same favorable treatment be accorded to their products. In short, Indonesia could be in violation of the MFN treatment obligation if the favorable treatment given to Palestinian products is not accorded to the same goods of other WTO members.

WTO rules, however, are not so rigid or inflexible as to leave no room for Indonesia to regulate. Indonesia could justify its favorable treatment for certain Palestinian products under exceptions to the MFN obligation available under WTO law.

For example, Article 24 of the GATT provides an MFN exception for custom unions and free-trade areas (FTAs) that meet specific conditions. Article 24:10 in particular establishes a procedural aspect if WTO members conclude FTAs with non-WTO members.

The provision states that WTO members "may by a two-thirds majority approve proposals […] provided that such proposals lead to the formation of a customs union or a free-trade area in the sense of this Article".

By referring to the drafting history, the GATT panel in EEC – Bananas II noted that paragraph 10 was included in the GATT to allow contracting parties to establish a customs union and FTA that include non-contracting parties. The question is that whether the MoU between Indonesia and Palestine can be classified as an agreement or interim agreement to establish a regional trade agreement in the sense of Article 24:10.

However, in practice, the procedure stipulated in Article 24 has been invoked only twice, for the Nicaragua-El Salvador FTA and the Nicaragua-Central American FTA. The GATT (WTO predecessor) contracting parties had practically abandoned paragraph 10 procedure in the 1960s and no approval procedures have taken place to this day. Won-Mog Choi in Legal Problems of Making Regional Trade Agreements with Non-WTO-Member States explains that the paragraph 10 mechanism had become insignificant due to the fact that the number of WTO members had constantly increased.

When the WTO Committee on Regional Trade Agreements evaluated the FTAs between the European Community and Estonia, Latvia and Lithuania in 1997, the non-WTO member status of Estonia, Latvia and Lithuania was not the issue in the evaluation. Much of the discussion focused on the quality of the agreement.

Another exception to explore is special WTO provisions that give developing countries special rights, often referred to as "special and differential treatment [S&D] provisions".

One of S&D provisions for developing countries is called the Enabling Clause. This is the WTO legal basis for the Generalized System of Preferences (GSP). Under the GSP, developed countries are able to offer non-reciprocal treatment, such as zero or lower import duties on products that originate in developing countries.

A provision in the Enabling Clause (Paragraph 2(d)) also allows special treatment for least-developed countries.

The provision emphasizes special treatment for least-developed countries as a subcategory of developing countries, and allows distinct preferences for these poorest-of-the-poor countries. Therefore, preference-granting countries do not need to establish that differentiating between developing and least-developed countries is "non-discriminatory". The words of this provision also suggest that the S&D treatment for non-WTO members that are least-developed countries may be justified under Paragraph 2(d).

As of March 2018, 47 least-developed countries were on the United Nations list, and Palestine was not one of them. It is important to note that Palestine has a unique status at the UN and to date it is still fighting to win UN recognition as an independent state.

But recently, the UN's biggest bloc of developing nations, the G-77, has selected Palestine to be its next chair starting from January 2019. The G-77 is a coalition of 134 countries of the developing world, including least-developed countries.

Even if Palestine is not on the UN list of least-developed countries, the "Economic Outlook of Palestine Territories" issued by the World Bank in April 2018 shows that it looks worrying. Unemployment continues to be high and, based on 2011 data, 21 percent of population the live below the US$5.50 per day poverty line.

In conclusion, WTO rules recognize the link between trade and development and contain provisions aimed at increasing developing countries' and least-developed countries' trade opportunities. Palestine's non-WTO member status should not be a major issue preventing greater economic relations.

The IA and MoU designed to facilitate and promote trade between Indonesia and Palestine should be welcomed as concrete action to improve the lives of Palestinians. Above all, this also shows that we still believe in trade as a tool for development.
***
The writer is a law lecturer and director at the Center for International Trade and Investment, Pelita Harapan University. The views expressed here are her own and do not reflect those of the center or the university.
Disclaimer: The opinions expressed in this article are those of the author and do not reflect the official stance of The Jakarta Post.

Join the discussions